● INTRODUCTION
- P TESTER is a useful tool is manufactured by DTDAuto technology team, Institute of Physics, Vietnam Academy of Science and Technology in 2013. It is manufactured on the basis of actual requirement while DTDAuto trains automobile/motorcycle technique, diagnose faults of EFI electronic fuel injection engine and check the fire safety when vehicle is operating.
- Equipment used for the workshop and vocational training that identify fault about engine power, fuel consume and fuel leakage of electronic fuel injection engine for almost automobiles and motorcycles today.
- Equipment designed as hand tool, simple, low cost and suitable for small and medium workshop for repairing.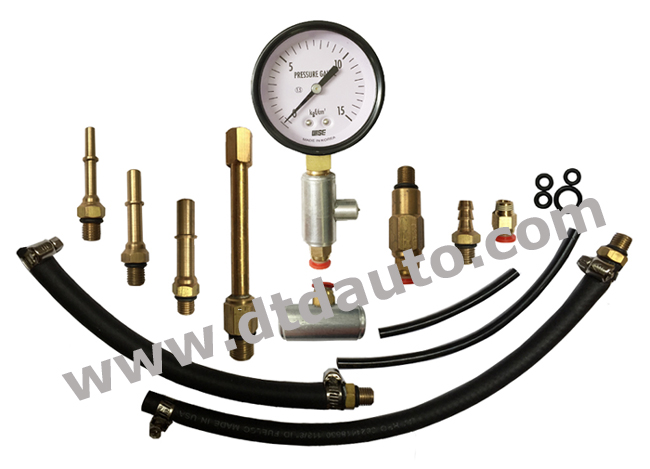 Equipment image
●
ADDRESS & APPLICATION
- Fault check tool for automobile/motorcycle workshop
- A study tool for automobile/motorcycle vocational training
- A safety check tool for automobile/motorcycle club and private vehicle.
● FUNCTION
- Check maximum compression pressure in engine cylinder
+ Check, survey longevity and quality of engine mechanical part and compare with a new engine
+ Diagnose fault of related components as: compression ring, tightness of valves
+ Compare quality and tightness of each cylinders in the engine
- Check pipe, fuel pump compression pressure of EFI engine
+ Check, survey static standard pressure and dynamic pressure of fuel supply system on EFI system of automobile and motorcycle.
+ Check the tightness of injectors, one-way valve and pipeline
+ Diagnose fault and quality of fuel pump, fuel filter, fuel pressure regulator
+ Used for faults diagnosing of vehicle that many new technicians are very difficult to detect related problems to fuel pressure such as high fuel consumption, black smoke, "fresh" fuel smell, weak accelerating, engine difficult to starting
+ Especially: The motorcycle workshops should equip this tool to check the safety and the absolute tightness of fuel system on EFI new generation automobile/motorcycle using high pressure creating to fuel inject into engine. "One of the main causes of vehicle fire in recent times!"
● INSTALLATION GUIDE
CONTENT
PARTS
COMPLETION INSTALLATION IMAGE
MEASURE FUEL PRESSURE FOR MOTORCYCLES
(For motorcycles have small pipe)

MEASURE FUEL PRESSURE FOR MOTORCYCLES
(For motorcycles
have big pipe
Example: SH125/150, exported SH)
MEASURE FUEL PRESSURE FOR AUTOMOBILES
(For automobile
have small pipe)
MEASURE FUEL PRESSURE FOR AUTOMOBILES
(For automobile
have big pipe)
MEASURE FUEL PRESSURE FOR AUTOMOBILES
(For automobile have
big pipe)
MEASURE COMBUSTION CHAMBER PRESSURE FOR MOTORCYCLES
● PACKAGE
- 01 Meter measure pressure ̉
- 01 One-way valve
- 01 T-coupling
- 01 I-coupling
- 03 connectors
- 02 Fuel pipes
- 02 Pressure connection pipes
- User guide
- Case
● RELEVANT DOCUMENTS
Answer & Question

Consultation selection

Why buy DTDAUTO products?

Product introduction

Download part list &
installation guide
Product introduction